About

From the reef to the rainforest and then the outback - North Queensland is as diverse as it gets...
Beyond the Atherton Tablelands opens a up a whole new array of landscapes as you enter into the Gulf Savannah Region. This area extends across Queensland to the Northern Territory, and north towards the Gulf of Carpentaria and the Cape York Peninsula. The vast plains and wide open spaces are a spectacular sight, comprising of miles upon miles of quintessential Australian bushland, eucalypt forests, arid grasslands and wide open spaces. Wildlife abounds and the sunsets are amazing. With unique geological formations, the Gulf Savannah has one of the most unique landscapes in the world.
Undara Volcanic National Park

One of the most famous features on the Gulf Savannah is the Undara Lava Tubes, one of the longest lava tube cave systems in the world, located 40km east of Mount Surprise. Estimated at 190,000 years old, the tube tunnels were formed when rivers of lava flowed into a valley and solidified on top to form a roof. The lava underneath continued to flow until it had all but drained away, leaving behind strange formations which now form one of the longest lava tube systems in the world. Undara was originally part of a large pastoral station owned and operated by the Collins family, the original pioneers of this region in 1862. The lava tubes were discovered around 1891 and since then six generations of the Collins family have explored these strange formations beneth the land.
Undara Experience
Undara Experience was created by the Collins family and opened to visitors in 1990, to preserve and manage this unique treasure. It comprises of a range of unique character accommodation, resort facilities, guided walks and campfire acivity. The lava tubes are accessed by guided tour only with a highly trained Savannah Guide.
Undara Tours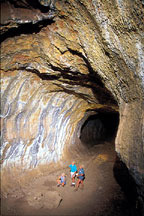 The Undara Lava Tubes are the region's main attraction, and there are a variety of tours on offer including a 2-hour or 4-hour Lava Tube Explorer, Wildlife at Sunset tour or a full day experience.
Archway Explorer
Suitable for all the family and fitness levels; the 2-hour Archway Explorer tour provides an amazing introduction to the Undara Lava Tubes and other interesting environmental, geological and historical features of the region. On the Archway Explorer you can expect to remain on solid boardwalks with some stair climbing when descending into the Lava Tubes.
Active Explorer
The Active Explorer is suitable for the young and young at heart - a moderate fitness level is required as there may be some climbing over rocks. Your Savannah Guide will conduct a rewarding and educational experience of the Undara Lave Tubes visiting up to 3 sections of lava tubes. The tour will introduce you to the general inhabitants of the Savannah Gulf Country with possible sightings of Agile Wallabies, shy Rock Wallbies and the amazing micro bats that call these Lava Tubes home.
Volcano Valley
The Volcano Valley tour delves further into this fascinating underground geological phenomenon - moderate fitness is required on this 4 hour tour. This tour visits a rocky bluff and 4 sections of lava tubes. Discover this fascinating underground geological phenomenon and learn more about the region's ecology. On the Volcano Valley tour you can expect to remain on solid boardwalks with some stair climbing when sumberging into the tunnels while there is some uneven track walking involved.
Wildlife at Sunset
Watch a Savannah Gulf – Big Sky Sunset and photograph a variety of local native animals, including wallabies, kangaroos, lizards and birds, before enjoying a cold drink and local produce as the sun sets. Learn about the local landmarks, plains and distant ranges. As dusk settles, travel to Barker's Cave to witness literally thousands of micro bats leave to feed for the night. Witness Pythons and Brown Tree snakes hanging from the trees as they strike out at the bats to capture a meal. Undara Volcanic National Park is a photographer's dream with spectacular sunrises and sunsets, majestic natural scenery, and the amazing flora and fauna unique to Outback Australia.
Find out more
Undara Wildlife & Lava Tube Tours
Wildlife

Without a doubt, the best time to experience native Australian wildlife at Undara is during the summer months November - March. Whilst it can be warmer and more humid at this time of year, if you're an animal enthusiast, it is definately the time for you to visit. Evenings and early mornings are the best times to spot kangaroos and wallabies. Watch out for geckos, skinks and goannas, magnificent pythons, various tree snakes and front-fanged snakes. In the evening, you'll hear the 'wark' of green tree frogs, which grow up to 10 cm in length and squat in shady, damp places, such as tree hollows. There is also a huge array of butterflies and moths. The Wildlife at Sunset tour with a Savannah Guide is the best way to gain a really good understanding of the species found in the area. Undara is a photographer's dream with spectacular sunrises and sunsets, majestic natural scenery, and the amazing flora and fauna unique to Outback Australia.
Self Drive/Getting There
Undara Experience is easily accessible by car, 4WD or campervan. The road to Undara is now sealed the entire way from Cairns. DRIVE CAREFULLY and keep an eye out for kangaroos and cattle wandering onto the road. There are a variety of scenic routes to choose from if you are travelling in your own vehicle, or a rental car.
Options are:
Cairns to Undara via Port Douglas & Rex Range
Cairns to Undara via Kuranda
Cairns/Townsville to Undara via The Palmerston Highway
Townsville to Undara via Ingham & Mount Fox
Townsville to Undara via Herveys Range Road
Townsville to Undara via Charters Towers
There are also 2 day packages available that include coach transfers ex Cairns or the Savannahlander scenic outback rail.
Find out more
3 Day Self Drive Package
2 Day Outback Experience
2 Day Outback & Rail
The Savannahlander

The Savannahlander is one of the great outback rail experiences of the world. From Cairns, the historic 'Silver Bullet' travels up the scenic Kuranda Range (the Kuranda scenic railway) including stops at Barron Falls and Stoney Creek, and through World Heritage listed rainforests to Kuranda. It then continues on through the agricultural areas of the Atherton Tablelands then into the Gulf Savannah region – to "outback" Australia. The Savannahlander is not only a unique train trip but a great way to see the Chillagoe Caves , Cobbold Gorge and the Undara Lava Tubes. The train departs Cairns every Wednesday at 6.30am, operating March through to December.
Find out more
2 Day Outback & Rail
Undara Accommodation

Accommodation ranges from the new Pioneer Huts which are beautifully appointed, each telling a story of a local pioneer, with the spacious verandah allowing you to enjoy the awe-inspiring outback landscape.
The beautifully restored Railway Carriage accommodation provides the most unique style of accommodation; set along the original Cobb & Co. coach road, you will find seven rail carriages shaded by tall trees.
For the budget minded, the Stockman's Quarters offer dormitory style accommodation, meanwhile the Swags Tent Village is an option for those who like camping without roughing it!
Onsite facilities include the Fettlers Iron Pot Bistro where you can enjoy local country cooking and some outback hospitality. The Saloon Car is the place to socialise with friends and enjoy a game of pool or refreshing drink. The swimming pool is perfect for cooling off after a day of bushwalking, and the famous Bush Breakfast is not to be missed! Other activities include self guided bush walks, mountain bike trails and the evening campfire where you can relax after dinner under the stars and enjoy a few bush yarns, singing with the guitar, evocative poetry or a talk on the environment with your Savannah Guide, there's something for everyone!
Find out more:
Undara Lava Lodge
Whats Hot!
Travel Tools

More Maps of Local Area

23-33°C

24-32°C

23-31°C

23-31°C

Temp: 27.3 °C
Wind: 15 kt SSE
Humidity: 68%
Pressure: 1009.4 hpa
Forecast: 23 - 33 °C (Mostly sunny)

More Climate & Weather Info
Whats Hot!