We found 5 tours
Viewing 1 to 5 of 5 tours
Page 1
Northern Experience

Paronella Park, Rainforest & Waterfalls
Atherton Tablelands & Waterfalls
Lake Cruise, Paronella Park
Popularity

Service

Value

Overall

Based on 67 ratings
Northern Experience Eco Tours:
Small group personalised tour includes swimming in Millaa Millaa falls - one of Australia's prettiest waterfalls. Stop at six amazing destinations including famous Paronella Park Castle ruins and forest trails along the journey. Stunning views and the opportunity to see unique wildlife along with visiting panoramic through the World Heritage Rainforest, Waterfalls, Lakes & Wildlife areas of the Southern Atherton Tablelands...
more info
On The Wallaby, Rainforest Tours

On the Wallaby Rainforest Day Tours
Swim in pristine waterfalls or Canoe
Rainforest & Unique wildlife
Popularity

Service

Value

Overall

Based on 5 ratings
On the Wallaby Rainforest day tour: Value packed day exploring the Highland Rainforest and Crater Lakes on the Atherton Tablands. Swim in a waterfall or paddle a canoe....more info

Uncle Brians

Fun, Falls & Forest
Swim, Sing, Slide under waterfalls
Platypus Spotting & Volcanic Craters
Popularity

Service

Value

Overall

Based on 14 ratings
Uncle Brian
enjoys Celebrity Status when it comes to popular budget tours in Cairns. Most Backpackers who know, will go with Uncle Brian in search of the Platypus, Waterfalls, Rainforest and Fun ...
more info
Kuranda Riverboat Cruise

45 minute River Cruise in Kuranda
Great for Families
See Freshwater Crocodiles
Popularity

Service

Value

Overall

Based on 47 ratings
Kuranda Riverboat Cruise: "The best kept secret in Kuranda" Just a short walk from the Kuranda Train and Skyrail Stations are the calm waters of the beautiful upland Barron River. This 45 minute Riverboat cruise provides great photographic opportunities whilst your local guides share their vast knowledge of this unique area. The river is home to a host of wildlife including freshwater crocodiles, turtles, snakes, water dragons and fish together with over 100 species of tropical birds...more info

Waterfall Wanderers

Budget Tablelands | Waterfalls | Rainforest
Includes Lunch & Transfers
Swim under waterfalls
Popularity

Service

Value

Overall

Based on 2 ratings
Waterfall Wanderers guides you to experience some of the best highlights on a fun fresh laid back tour! A day of action and fun - Swim in 4 natural water spots, under waterfalls, on a natural slide, and partake in a unique float/swim while in a volcanic crater lake... Kick back and enjoy the journey...more info

Viewing 1 to 5 of 5 tours
Page 1
Tours

The Atherton Tablelands is a destination of immense scenic beauty. Situated above Cairns, this naturally beautiful part of Tropical North Queensland offers cooler temperatures and diverse experiences. There is an abundance of activities to suit a whole variety of interests including history, nature, wildlife, walking, birding, food, craft and markets. With fun and adventures for young and old, plus a milder climate, the Atherton Tablelands makes for a perfect 'getaway' destination.
Outback

The Gulf Savannah region has some of the norths most remote country, featuring mile upon mile of bushland and wide open spaces, spectacular flora and fauna, changing landscapes, World Heritage fossil fields, historic towns, aboriginal rock art, gemstones and gold. Visit Undara Volcanic National Park, home to the Undara Lava Tubes, one of the longest lava tube cave systems in the world. Here you can take a guided tour of the caves, spot wildlife, join in some bush camp activities and enjoy the serenity of the outback.
Rainforest

The Atherton Tablelands is a region of spectacular scenery and rugged topography with fast-flowing rivers, deep gorges and numerous waterfalls; mountain summits provide expansive vistas of undisturbed rainforests. Fringing the rainforests are tall, open forest, and tall, medium and low woodland. As well as being a place of exceptional natural beauty, the rainforests also contain a number of unique marsupials, including the musky rat kangaroo, which is probably the most primitive surviving kangaroo species, and the Lumholtz's and Bennett's tree-kangaroo.
Scenic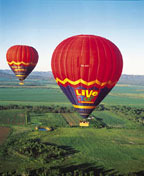 The landscape and fertility of the soils in the Tablelands region can be attributed to the volcanic origins of the land. Among the rolling hills dairy cattle graze on green pastures and farms grow tea, coffee, nuts, corn, vegetables and flowers for local and export markets. Charming small townships come alive with weekend country markets and spectacular views can be had from the basket of a hot air balloon flight. Sunrise provides the perfect conditions for a hot air balloon flight, and makes for an incredible memorable experience.
Wildlife

The Undara lava tube system is one of the longest in the world, attracting a whole variety of wildlife. Without a doubt, the best time to experience native Australian wildlife at Undara is during the summer months. Each evening between December and March, a fascinating event takes place at Undara... Undara's population of microbats – estimated at around 250,000 in total – fly out from deep within the lava tubes to search the volcanic landscape for insects. As they emerge, snakes hanging in trees at the entrance to the tubes strike out to capture the bats as they fly past. Visitors can choose to go right to the entrance and get up close to the action!
Whats Hot!
Travel Tools

More Maps of Local Area

23-31°C

24-31°C

23-31°C

23-31°C

Temp: 24.3 °C
Wind: 6 kt SSE
Humidity: 88%
Pressure: 1006.4 hpa
Forecast: 23 - 31 °C (Possible shower)

More Climate & Weather Info
Whats Hot!