Home >
Rainforest Retreat
The rates for your dates have not been loaded.
Please call one of our friendly team to help you plan your holiday: 07 40402100
Rainforest Retreats

The Atherton Tablelands is like a box of chocolates - with a rich assortment of landscapes there are many treasures that will delight. From extinct volcanoes to crater lakes, dry bushland to green rolling hills, waterfalls and gorges the list goes on...and amongst all of this, you will also find tucked away some special pockets of ancient rainforest.
Cute cabins make for a gorgeous stay especially during the winter months when you can warm up beside a wood burning fireplace. Our favourites include Rose Gums Wilderness Retreat, Crater Lakes Cottages and Mount Quincan. Each property is situated amongst a unique and very special environment.
The Setting

Rose Gums is situated on 230 acres of private tropical forests, and is named after the most prominent tree on the property – the Rose Gum or Eucalyptus grandis. This tree typifies the "Wet Sclerophyll Forest" (WSF) in the highlands of North Queensland. The unique mix of endangered wet sclerophyll and rainforest makes for a large diversity of plant & animal life. Rose gums are important for a whole range of animal species. There are kilometres of bushwalks through the rainforest for guests to enjoy, as well as a pristine rainforest creek and small waterfall to experience. Lorikeets and Honeyeaters are abundant when the Eucalypts are in flower.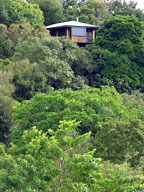 Mt Quincan, now a dormant volcano, erupted approx 16,000 years ago. It is 11.2 m deep and is the only ecosystem of its type to support the endangered wetland described as The Regional Ecosystem 7.3.2 Grasslands and sedgelands. Mt. Quincan also supports the critically endangered "Mabi Forest" (Mabi is the aboriginal name for tree kangaroo). This very restricted vegetation type is home to a vast variety of insects, birds and frogs, and an abundance of wildlife including 4 threatened species - the Macleays fig parrot (Double Eyed Fig Parrot), Lumholtz's tree kangaroo, Green ringtail possum and Grey Goshawk. This secluded retreat offers peace and privacy in a pristine environment, surrounded by abundant wildlife and breathtaking views of the Atherton Tablelands.

Crater Lakes Cottages is set on the border of World Heritage Rainforest rainforest near Lake Eacham. Lake Eacham is surrounded by 1200 acres of lush tropical highland rainforest. It is a beautiful spot to explore with both Lake Eacham and Lake Barrine forming the Crater Lakes National Park. Encounter cute Wallabies, marauding Brush Turkeys, shy Musky Rat Kangaroos, long nosed bandicoots, Victoria's Rifle birds, Cat Birds and much more wildlife from your own private balcony. Of the 760 bird species in Australia, more than 300 can be found on the Tablelands, and many endemic species are seen from the cottages.
Romance

Popular for romance, where better to escape than to your own private cabin on the Atherton Tablelands; perfect for honeymoons, anniversary, birthday or simply a romantic getaway. Tucked away in a tranquil rainforest setting, attention to detail is everything in these unique rainforest cabins and treehouses. The attraction of a cosy log fireplace in the wintertime draws up many couples seeking the perfect place to unwind. Little extra touches such as Port and chocolates, spa bath, candles, bubble bath, double shower, wrap around robes and flowers add to overall ultimate couples getaway. All cabins and treehouses are individually designed, and you will find some of them even feature their own decorated themes such as Pioneer, Tuscany, Bali and Beach Hut that will transport you into a different world as soon as you step through the door. Complimentary breakfast hampers are the norm on the Atherton Tablelands - why leave the beauty of your cabin when you can have everything provided, with provisions for a full Tableland country breakfast each morning.
Accommodation Features

Mount Quincan features six architecturally designed treehouses that have been sensitively placed in the rainforest on the slopes of the Mt. Quincan Crater. Each treehouse is fully secluded and completely private, to maximise the relaxing surrounds, and offering extensive and varied stunning views. Each treehouse includes a double spa, king size bed, comfy sofa lounge, fireplace and full kitchen facilities. Some have panoramic views of the tablelands whilst others have unique views of the Mt. Quincan Crater.
Crater Lakes Cottages comprises of four individually themed self-contained cottages that are tastefully decorated in various themes. Each cottage is fully-equipped and additionally features a spa bath, wood fire, candles & flowers, TV, DVD & CD stereo. All the cottages are hidden in a tranquil rainforest setting.
Rose Gums Wilderness Retreat has only 9 handcrafted pole and timber treehouses. All accommodation is fully self-contained from studio layout treehouses to 2 bedroom treehouses which cater for up to 4 guests. There are two treehouses that can sleep up to 6 guests. Each treehouse is set independently within its own area of rainforest so your privacy is assured. All treehouses have fully equipped kitchens, large spa baths & wood fireplaces. Additional features include fluffy bathrobes & footwear, fruit basket, and games/magazines/bird books.
Find out more:
Mt Quincan
Crater Lakes Cottages
Rose Gums Wilderness Retreat
Wildlife

The Atherton Tablelands is a nature lover's paradise; each rainforest retreat supports a vast variety of wildlife which you will have the opportunity to spot from the convenience of your cabin. Early risers will enjoy the morning chorus of bird song. There are about 327 bird species on the Atherton Tablelands, with 12 of them endemic to the region. Listen for the whip-crack call of the Eastern Whip Bird or the eerie cry of the Spotted Catbird or the morning melody of the Chowchillas. During the night you can listen for the unusual "bomb falling whistle" call of the Lesser Sooty Owl or the call of the Boobook Owl. Even if you are not dedicated bird watchers, you will be impressed by the Victoria's Riflebird (bird of paradise), which can be seen displaying for his mate. Some of the endemic birds of the area include the Macleays Honeyeaters, Grey-headed Robin, Tooth-billed bowerbird, Bridled Honeyeater, Bowers Shrike-thrush and Pied Monarch. Tree climbing kangaroos are abundant in the 'mabi' type rainforest that is found at Mt Quincan. Frogs, water dragons and butterflies are also a common sight.
Activities

If you are done with relaxation in your cabin and want to stretch your legs and capture some fresh air, then there are a range of activities where you can walk out the door and explore the nearby surrounds. Rose Gums has a host of walking trails leading through rainforest to nearby creeks and waterfalls. Suitable from the easy to adventurous, it provides time to bond not only with each other, but with nature as well. Mt Quincan also offers a range of walks where you can track around the crater basin or head up to the summit and take in 360° views of the Tablelands from multiple vantage points. Birdwatching and animal viewing is a popular past-time at Crater Lakes Cottages. Native animals can be seen in the rainforest surrounding your cottage. If you're lucky you may even spot a Lumholtz's Tree-kangaroo. Just a short walk away is Lake Eacham where you can take a refreshing swim, explore the rainforest circuit track or watch for turtles.
Hot Air Ballooning
To top off a special occasion why not take a hot air ballooning flight? The Atherton Tablelands is one of the most popular destinations to take a hot air balloon flight due to the superb weather and climate conditions. This gentle activity takes place in the early hours, as dawn provides the best conditions and the most spectacular coloured landscapes. Enjoy unrivalled panoramic views of the unique Australian landscape in a 30 or 60 minute hot air balloon flight.
Find out more:
Atherton Tablelands Hot Air Ballooning
Whats Hot!
Travel Tools

More Maps of Local Area

24-30°C

24-32°C

23-32°C

23-31°C

Temp: 24.5 °C
Wind: 4 kt SSE
Humidity: 90%
Pressure: 1009.9 hpa
Rain: 32.8mm since 9am
Forecast: 24 - 30 °C (Showers)

More Climate & Weather Info
Whats Hot!