The rates for your dates have not been loaded.
Please call one of our friendly team to help you plan your holiday: 07 40402100
Family Friendly

The Atherton Tablelands makes for a fun family destination, with a diverse range of natural attractions to visit there are plenty of outdoor activities and adventures to keep all the family entertained. The Atherton Tablelands is pure, simple family fun. Go Barra fishing on Lake Tinaroo, spot Platypus at Petersons Creek in Yungaburra, say hello to the cows at Gallo's Dairy, walk above the trees on the spectacular Mamu Canopy Walk, step back in time at the Herberton Historic Village, or enjoy family fun at the popular Yungaburra Markets. There is plenty of unique and interesting accommodation to choose from on the Tablelands so you can base yourself ready to take in all the adventures!
Undara

190,000 years ago, mother nature set to work creating one of the rarest and most fascinating volcanic phenomena on Earth. A massive eruption caused lava to flow over this ancient land. As the lava filled existing depressions (probably watercourses) it gradually solidified on top, but continued to flow underneath until the lava had all but drained away leaving behind strange formations which now form one of the longest lava tube systems in the world.
Located on the eastern edge of Tropical North Queensland's vast Gulf Savannah region (approx 4 hours from Cairns), Undara Volcanic National Park provides a wonderful opportunity for families to capture the essence of the real Australian Outback. The area is visually spectacular and home to a fascinating array of remnant plants and wildlife. A tour of the lava tubes make for a rewarding and educational experience. You will see wildlife in abundance including regular sightings of Agile Wallabies, shy Rock Wallbies and the amazing micro bats that call these tunnels home. Dawn and dusk are the best times to go wildlife spotting, and you can choose to join one of the Savannah Guides for a Wildlife at Sunset tour where you can spot local native animals, including wallabies, kangaroos, lizards and birds.
Each night after dinner enjoy some country entertainment around the campfire, whether it be a few bush yarns, singing with the guitar, evocative poetry or a talk on the environment, there is something for everyone. There's also exciting accommodation options at Undara Experience; restored turn of the centuary Railway Carriages provide a unique style of accommodation set along the original Cobb & Co. coach road, they are shaded by tall trees and surrounded by Australian native wildlife. For those who like camping without roughing it, then 'Swags Tent Village' is ideal. Newly refurbished large and comfortable permanent tents are situated in a shady bush setting. The Safari Shelters are perfect for families travelling together with their own tents and the Stockman's Quarters dormitory style accommodation appeals to budget travelers. An excellent central camping area with a pool and all amenities prvides everything you need for this fun outback Aussie adventure.
Find out more:
Undara Lava Lodge - Family Friendly Accommodation
Undara Experience - Self Drive & Guided Tours
Lake Tinaroo Terraces

Overlooking Lake Tinaroo, Lake Tinaroo Terraces is an ideal getaway option for the active family who love the outdoors. Situated right on the edge of Lake Tinaroo, Lake Tinaroo Terraces offers direct access to the lake for boating, swimming, sailing, canoeing and fishing for the mighty "Barramundi". Barramundi and redclaw crayfish can be caught all year round, and there are plenty fishing spots to choose from along Lake Tinaroo's 200 kilometre picturesque shoreline. The world record barramundi (121cm and 38.75kg) and the world record sooty grunter (5.45kg) have been caught in Tinaroo. Freshwater crayfish are plentiful and easy to catch from the shore. Boat hire is available from Lake Tinaroo Terraces secluded beach, or you can bring your own boat/jetski and ski direct from the property. Lake Tinaroo Terraces is also located next to the Tinaroo Dam wall lookout and Pensini's Restaurant (about 200m away). When the dam is full it is a spectacular sight as it overflows.
Accommodation at Lake Tinaroo Terraces comprises of two-storey terrace-style lodges. They have an upstairs master double bedroom with a queen size bed and a second bedroom downstairs with two bunk beds, and are all fully self-contained except for laundry facilities. Perfectly family orientated the property features landscaped gardens, swimming pool and you can also enjoy an Aussie camp fire on the beach. The wonderful Atherton Tableland climate make for a perfect year round getaway and Lake Tinaroo Terraces an ideal base to explore the Atherton Tablelands from.
Find out more:
Lake Tinaroo Terraces - Simple Lakeside Family Accommodation
Top 10 Family Friendly Places to Visit

The Atherton Tablelands offers an endless amount of outdoor activities where the kids can get active, explore nature and enjoy the great outdoors. The land is so diverse from rainforests, mountain streams, green pastures and rolling hills to bushland, the outback and interesting heritage towns. Visiting the Atherton Tablelands can be very affordable for families, with a host of natural attractions and low cost activities to keep you busy.
Gallo Dairyland

Gallo Dairyland is well worth a visit with the kids, featuring a fully operational dairy farm, gourmet cheese factory, cafe/restaurant, hand crafted chocolate and a petting zoo. If you arrive around 3pm then head over to the milking shed where you can watch the cows going in for their afternoon milking session. Kids will love meeting and patting all the animals in the walk through pertting area, there are pigs, goats, chickens and calves, plus some chickens, turkeys and ducks you'll find wandering around the car park area. Gallo Dairyland makes for a great afternoon stop, and the kids and parents too will love the chocolate
treats!
Granite Gorge

Granite Gorge is best known for its friendly Rock Wallabies, and is a must see, especially if you are travelling with children and love wildlife. The Mareeba unadorned rock wallabies (Petrogale inornata, Mareeba race) are rare and endangered and only seen up close here. The wallabies have grown up with human contact, and as a result are tame, friendly and happy to be touched and photographed while being hand fed. They can be seen all day, however Granite Gorge is best experienced in the afternoon when up to 50 rock wallabies converge in a small area hungrily waiting to be fed. Granite Gorge provides perfect rock wallaby habitat, featuring massive boulders and smaller streams winding between them. The sheer size of some of these boulders is overwhelming and form a breath-taking sight stretching out for over a kilometre. There are three excellent walks of 1km each and some smaller circuits to choose from. Other activities include swimming, canoeing, fishing and feeding the fish and turtles, exploring caves and spotting rock formations that depict animals.
Tableland Heritage Centre

The Tableland Heritage Centre offers an entertaining and unique insight into our farming history. Featuring the most amazing and interesting collection of local heritage farming and machinery. Items include a 1910 peanut thresher from the early Tableland farming era, an amazing collection of lovingly restored old time tractors, horse drawn spring cart, a variety of hand driven implements, a collection of water pumping equipment and other farm tools. But what makes this museum so unique is its unusual array of quirky characters that provide a good bout of tongue-in-cheek humour to this historical experience. No where else will you find a cow on a unicycle, a pig with a shotgun, horse on the dunny or pigs in a flying machine. From the weird and wacky to the completely bizarre, it is all here and all makes for a very entertaining and humourous experience. The kids will love exploring all the old farm machinery and the amusing characters provide a few good giggles for all! It's certainly like no other heritage museum you will ever encounter...The Tableland Heritage Centre is located on Willows Road, Tolga. Entry is $5 donation towards the preservation of the museum.
Lake Eacham

Lake Eacham is a clear, blue crater lake surrounded by cool rainforest,located just over an hours drive from Cairns via the Gillies Highway. Lake Eacham is a popular recreation area with locals and visitors offering swimming, birdwatching, canoeing, picnic areas and shady walking tracks. Wildlife is abundant in and around Lake Eacham and several species are endemic to the Wet Tropics World Heritage Area. There are two viewing decks that offer uninterrupted views of the lake and its inhabitants. Saw-shelled turtles and eastern water dragons are popular sightings. Other common lake residents include over 180 bird species. Musky rat-kangaroos are active during the day and are often seen from the walking tracks. The children's rainforest walk provides excellent opportunities for viewing wildlife. Wriggle like a snake, stamp on pests and hunt for dragons, this easy 1.4km walk is suitable for prams but is steep in places. Allow 1 hour walking time. Picnic tables, shelters, toilets, and barbecues are provided, swimming is also permitted in the lake so it makes for a perfect family day out.
Mamu Rainforest Canopy Walkway

The Mamu Rainforest Canopy Walkway is an elevated walkway that allows you to explore the rainforest on all levels, from the forest floor to up high in the canopy. The elevated walkway rises from ground level to 15m above the ground, and meanders through the canopy of lush tropical rainforest. Enjoy close-up views of rainforest plants, insects and birds, and take in sweeping vistas of World Heritage rainforest landscapes. Information signs tell of the rainforest's complex web of life and the rich culture and history of the area. The 10m long cantilever and a 37m high observation tower feature two viewing decks that provide spectacular views over the North Johnstone River gorge and surrounding rainforest-clad peaks of the Wet Tropics World Heritage Area. The walkway offers a safe and comfortable nature-based experience for all visitors. All facilities and walking tracks, except the top viewing deck of the observation tower, are accessible for wheelchairs and strollers. Rest shelters presenting information about the history and heritage of Mamu rainforest and picnic tables are provided near the entrance, making a lovely day out. Even in the wet season, the Mamu rainforest offers an exhilarating experience for all visitors. The Mamu Rainforest Canopy Walkway is located approx 90mins drive south of Cairns; open daily from 9.30am to 5.30pm, last entry is at 4.30pm.
Tarzali Lakes

The Tarzali Lakes Aquaculture Centre comprises of a series of lakes, some natural, some man-made, a yabbi breeding farm, a barramundi farm and fishery, a smokery and restaurant and one of the rare places where you can see platypuses in the wild. The Park and its natural surroundings is a great place for families to enjoy a day out spotting platypus, fishing, learning about commercial aquaculture techniques, with the option of camping or dining at the Smokehouse Café. Over 500,000 fish thrive in 16 ponds so you're in with a good chance of reeling one in. Species include Barramundi, Golden Perch, Jade Perch, Red Claw (tropical freshwater crayfish) and Eels. Tarzali Lakes is also home to a thriving platypus population, these wonderful creatures can be found in a spring fed pond surrounded by lush tropical vegetation. Other activities include a guided tour of the park, Aqua Golf, birdwatching and nocturnal tours. Tarzali Lakes is located half way between Millaa Millaa and Malanda, on the Millaa-Malanda Road. Open 10.00am to 4.00pm, 5 days a week, including public holidays. Closed Fridays and Mondays.
Yungaburra Markets

The Yungaburra Market is the biggest and best known markets on the Atherton Tablelands. Taking place on the 4th Saturday of the month from January to November, the markets attract producers from all over the region selling everything from flowers, home made crafts, local wines, wooden furniture, clothing, fresh local produce and just about anything else you can think of. Entertainment and good food make for a lovely, socialble morning out. The December Market is usually the biggest of the year and is specially scheduled to ensure it falls prior to Christmas eve. The Yungaburra Markets operate from 7:30am to 12:30pm, you will find then situated in the heart of the Yungaburra Village.
Lake Tinaroo

Lake Tinaroo is a popular tourist and recreation spot with over 200 kilometres of shoreline. Since the 1950s Lake Tinaroo has become the region's draw card for water sports, attracting tens of thousands of visitors each year. Popular recreation activities include fishing, sailing, waterskiing, swimming, canoeing and wind surfing. There are a number of short walks to choose from and picnic and day-use areas. Not far from the dam wall is Platypus Rock lookout. You can climb the steps on to the huge granite boulders for a unique view of the plantation and forest canopy and a glimpse of the lake through windswept branches. Also nearby is one of the most impressive strangler fig trees you will ever see. The Cathedral Fig tree is a gigantic 500 year old strangler tree. A boardwalk around the tree provides great views up the trunk and into the canopy of this rainforest giant, you can also practically walk inside it. Great photo opportunities to be had here, so don't forget your camera!
Herberton Historic Village

Herberton Historic Village is an outdoor museum presenting the story of Australia's pioneering past. Its particular focus is on the tin mining town of Herberton, which is its home. Herberton is the oldest town on the Tablelands, established in 1880 on the back of a tin mining boom. Herberton Historic Village offers a true glimpse into Australian history and pays homage to this era when mining dominated the mineral rich mountains of the Atherton Tablelands. The Village currently has over 50 original buildings that date from Herberton's foundation years. Walking through the Village, visitors are given a sense of being in a real township complete with chemist, bottle collection, school, bank, grocer's store, frock salon, toy shop, mechanic, jail and more. You could spend an entire day here absorbing it all, and the kids will take great delight in exploring and role playing amongst this historical town, so plan on relaxing and taking your time!
Waterfalls Circuit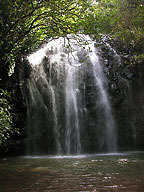 The famous waterfalls circuit links the spectacular Millaa Millaa Falls, Zillie and Ellinjaa Falls. Milla Millaa falls is the most prettiest falls on the Tablelands, and is certainly one of the most photographed images in the Wet Tropics. It makes for a popular swimming spot and refreshing too! There's also a lovely grassy picnic area for you to relax, and if you're lucky, you might even catch a glimpse of a platypus. Zillie Falls features a lovely viewing platform at the base of the falls where you can enjoy a view of the cascading water and rapids. A colony of Flying Foxes are often spotted near the car park, so keep your eyes out! There's a 200 metre walkway to the base of Ellinjaa Falls where turtles and platypus are often spotted. The falls are a great spot for swimming. There's also a little ledge hidden behind the falls that you can sit on and take in the scenery.
Whats Hot!
Travel Tools

More Maps of Local Area

23-31°C

24-32°C

24-33°C

25-32°C

Temp: 24.0 °C
Wind: 13 kt S
Humidity: 87%
Pressure: 1010.6 hpa
Rain: 16.4mm since 9am
Forecast: 23 - 31 °C (Possible shower)

More Climate & Weather Info
Whats Hot!