Accommodation Specials!





Mount Quincan Crater Retreat Surprise your loved one with a romantic getaway.
Double spa & wood fire
*Country breakfast provisions
*Fresh muffins on arrival
*Port and chocolates
*Fresh Tableland roses
*Fluffy bathrobes and booties
*DVD and CD library
*Binoculars & bird identification book
*Undisturbed privacy plus lots of other little extras to add to that special getaway

Perfect to unwind!


*Based on 3 or 4 night midweek special
Stay between now and 31/March/2018





Crater Lakes Rainforest Cottages offer self-contained cottages with spa bath and wood fire. Located 1hr from Cairns.
STAY LONGER & SAVE
*Close to Lake Eacham
*Close to Yungaburra

COUPLES ESCAPE
THEMED COTTAGES

Based on 5 night stay
Stay between now and 31/March/2018





Lake Tinaroo Terraces offers simple, stand-alone lodges and ensuite rooms nested in lush landscaped surroundings with lake frontage. The property is ideal for families, friends, or couples on a budget.
Great Fishing!
2 BEDROOM LODGES


LAKE TINAROO
ABSOLUTE LAKEFRONT

Stay between now and 31/March/2018
Viewing 1 to 5 of 5 properties
Page 1
Undara Lava Lodge

Undara Lava Tubes.
Wildlife in abundance
Authentic Outback Experience
Popularity

Service

Value

Overall

Based on 13 ratings
The Undara Lava Lodge offers turn of the century Queensland railway carriages have been lovingly restored to their former glory and now lie beneath tall, shady gum trees. Charming, compact and comfortable, with covered decks to watch wildlife and enjoy the restful bush sounds...more info

Rose Gums Retreat

Treehouses in the Rainforest
Self Contained Treehouses
Private Rainforest Stream
Popularity

Service

Value

Overall

Based on 11 ratings
A stay at
Rose Gums
offers the perfect opportunity for people to experience Aussie Bush and rainforest as well as a superb opportunity to spot many (150 species recorded) birds and native animals...
more info
Mount Quincan

Treehouses with views
Crater and Panoramic Views
Secluded Treehouse Cabins
Popularity

Service

Value

Overall

Based on 6 ratings
With unsurpassed panoramic views over the hills and valleys of the Atherton Tablelands, and only minutes from historical Yungaburra Village, -
Mt Quincan Crater Retreat
is the ultimate escape. ...
more info
Allumbah Pocket Cottages

One Bedroom Cottages
Country style cottages
Breakfast Included | FREE Wi-Fi
Popularity

Service

Value

Overall

Based on 7 ratings
You will find the perfect place to stay at
Allumbah Pocket Cottages
. Enjoy the luxury of the six cottages styled on the era of bygone days, with all the modern day luxuries ...
more info
On The Wallaby Lodge

Backpackers Lodge
Family owned, Budget Accommodation
FREE Platypus spotting & Rainforest walks
Popularity

Service

Value

Overall

Based on 1 ratings
If you're seeking a refreshing experience with like-minded, independent travellers in a genuine home-away-from-home environment, you've found it.
On the Wallaby Backpackers Lodge
has carefully nurtured a reputation for friendliness, cleanliness and value ...
more info
Viewing 1 to 5 of 5 properties
Page 1
Atherton Tablelands Accommodation

The Atherton Tablelands is full of character, with quaint villages set amongst rolling hills, pockets of rainforest and waterfalls galore. Birdlife and wildlife abound, and with a cooler climate, the Atherton Tablelands make for a welcome break away from the humidity of the Cairns coastline.
Family Friendly

The Atherton Tablelands makes for a fun family destination, with a diverse range of natural attractions to visit there are plenty of outdoor activities and adventures to keep all the family entertained. The Atherton Tablelands is pure, simple family fun. Go Barra fishing on Lake Tinaroo, spot Platypus at Petersons Creek in Yungaburra, say hello to the cows at Gallo's Dairy, walk above the trees on the spectacular Mamu Canopy Walk, step back in time at the Herberton Historic Village, or enjoy family fun at the popular Yungaburra Markets. There is plenty of unique and interesting accommodation to choose from on the Tablelands so you can base yourself ready to take in all the adventures!
Find out more
Family Adventures on the Tablelands
Lake Tinaroo

Lake Tinaroo is a popular tourist and recreation spot with over 200 kilometres of shoreline. Since the 1950s Lake Tinaroo has become the region's draw card for water sports, attracting tens of thousands of visitors each year. Popular recreation activities include fishing, sailing, waterskiing, swimming, canoeing and wind surfing. There are a number of short walks to choose from and picnic and day-use areas.
Find out more:
Accommodation at Lake Tinaroo
Outback

From the reef to the rainforest and then the outback - North Queensland is as diverse as it gets...Beyond the Atherton Tablelands opens a up a whole new array of landscapes as you enter into the Gulf Savannah Region. Located just west of Ravenshoe in the Atherton Tableland, the Gulf Savannah extends across Queensland to the Northern Territory, and north towards the Gulf of Carpentaria and the Cape York Peninsula. The vast plains and wide open spaces are a spectacular sight, comprising of miles upon miles of quintessential Australian bushland, eucalypt forests, arid grasslands and wide open spaces. Wildlife abounds and the sunsets are amazing. With unique geological formations, the Gulf Savannah has one of the most unique landscapes in the world.
Find out more
Outback experience - places to stay
Rainforest Retreats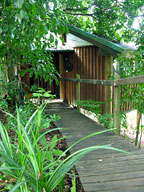 The Atherton Tablelands is like a box of chocolates - with a rich assortment of landscapes there are many treasures that will delight. From extinct volcanoes to crater lakes, dry bushland to green rolling hills, waterfalls and gorges the list goes on...and amongst all of this, you will also find tucked away some special pockets of ancient rainforest. Cute cabins make for a gorgeous stay especially during the winter months when you can warm up beside a wood burning fireplace. Our favourites include Rose Gums Wilderness Retreat, Crater Lakes Cottages and Mount Quincan. Each property is situated amongst a unique and very special environment.
Find out more
Cute Cabins & Rainforest Retreats
Yungaburra

Established in 1890, Yungaburra is a charming little village best known for its heritage-listed buildings that have remained in their original glory since 1910. The beautiful township has plenty of character with interesting cafes, restaurants, boutiques, bookshops, craft and a day spa or two, which makes for a lovely day out. A pleasant stroll through the heart of Yungaburra will bring you to Peterson Creek and the platypus viewing area. Here you might be lucky enough to catch a sighting of the elusive platypus in their own natural environment. Although the best viewing times are morning and dusk, it's worthwhile stopping for a look at any time of day, as many sightings have occured during daylight hours.
Find out more
Yungaburra Accommodation - For a romantic weekend or some outdoor adventures
Whats Hot!
Travel Tools
Whats Hot!