Click on Map Icons to View More Info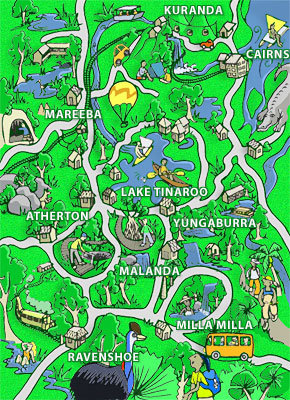 Top 10 Articles
4WD Safaris
Atherton Tablelands
Atherton Township
Australian Coffee Centre
Be Cass-o-wary!
Billy Tea Bush Safari
Birdworld Kuranda
Chillagoe Town & Caves
Crater Lakes
Curtain Fig Tree
Tablelands Region Guide
Click Images to view gallery for this subject
Millaa Millaa
Updated: 03-Mar-2014
Millaa Millaa is situated in the heart of the most picturesque dairying country in Australia. This quiet, peaceful and idyllic village is made famous by its 17km long Waterfall Circuit which includes the beautiful Millaa Millaa Falls.
The township features an interesting timber and dairy museum and a number of sculptures including the Millaa Millaa Cow; a life size artwork that shows a cow, which doesn't want to be put into the bails for milking. The farmer pushes her from the back, while she steps into the milking bucket!
The main street also features a hote/motel, a good convenience shop, coffee shop, beauty shop & gift shop/post office.
A visit to Millaa Millaa should include a stop at the Falls Teahouse on the turnoff to Millaa Millaa Falls. The Teahouse is famous with travellers for their real coffee and home made meals.
Nearby is the Mungalli Creek Bio-Dynamic Dairy producing a variety of fine cheeses and dairy products with cheese tastings conducted daily.
Just west of Millaa Millaa is the Millaa Millaa Lookout, which is probably the most popular lookout on the Tableland with 180 degree views from the north west to the south east, including the distant coastal areas of Innisfail, and the volcanic peaks scattered across the Tableland.
Sweeping views can also be experienced along the roadways, including the much photographed Mt Bartle Frere, Queensland's highest mountain and the nearby tea plantations. Millaa Millaa is the eastern access point for the 130km network of walks that form the Misty Mountains Trails, linking coastal townships of Tully, Mena Creek and Innisfail.
Edit This Page
Edit Page Content
Post Comment