Home >
Chillagoe Town & Caves
Click on Map Icons to View More Info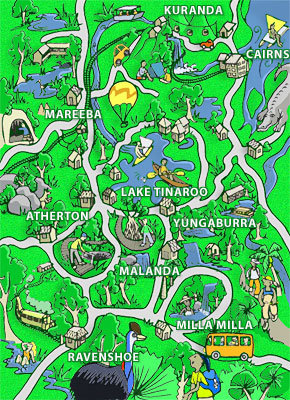 Top 10 Articles
4WD Safaris
Atherton Tablelands
Atherton Township
Australian Coffee Centre
Be Cass-o-wary!
Billy Tea Bush Safari
Birdworld Kuranda
Chillagoe Town & Caves
Crater Lakes
Curtain Fig Tree
Tablelands Region Guide
Click Images to view gallery for this subject
Chillagoe Town & Caves
Updated: 21-Feb-2007
The historic town of Chillagoe offers visitors a taste of the real Outback, in one of the world's unique geological sites.
It is a stunning mix of outback landscape, mining heritage, aboriginal art sites and fantastic limestone caves, complete with dusty stockman, roaming cattle, isolated railway sidings, shaded pub verandahs and relics of a bygone mining era.
The human history of the region stretches back 35,000 years, and significant Aboriginal rock art sites have been found here.
The town's biggest attraction is the Chillagoe Caves, described as a mystical underground world of rare limestone caves and Aboriginal art. Over 600 limestone caves have been documented in the Chillagoe region, with the largest system claimed to contain over 6.5 km of passage. Every cave is different and names such as 'The Cathedral Cave, or 'The Piano Cave', often give clues to what may be found within. The caves are located about one kilometre from the main town site, at the Chillagoe-Montana National Park.
Other attractions in the area include hand fossicking for crystals at the nearby Muldiva Creek. There is also good fishing along the Walsh River.
The Hub Interpretive Centre is a one-stop shop for visitors, offering information, tours, and interpretive displays telling the story of Chillagoe. The Hub is located in the heart of town on the former National Australia Bank site, and offers the best source of up to date information about tours, sites and walks. It is well worth a visit on arrival to Chillagoe town.
Getting There:
Chillagoe is less than 150km west of Mareeba, and 205km from Cairns. Apart from the last 20km or so, the road is sealed making it easily accessible by conventional vehicles. Travelling time from Cairns is around 3 hours.
Edit This Page
Edit Page Content
Post Comment