Click on Map Icons to View More Info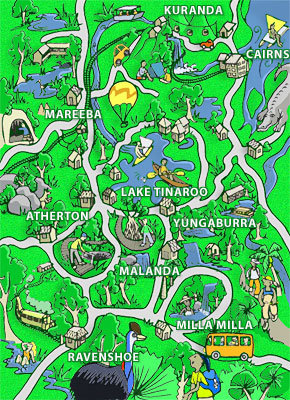 Top 10 Articles
4WD Safaris
Atherton Tablelands
Atherton Township
Australian Coffee Centre
Be Cass-o-wary!
Billy Tea Bush Safari
Birdworld Kuranda
Chillagoe Town & Caves
Crater Lakes
Curtain Fig Tree
Tablelands Region Guide
Click Images to view gallery for this subject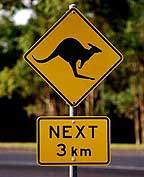 KANGAROO CROSSING ON THE WAY TO MAREEBA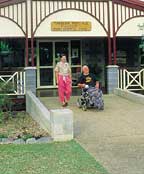 MAREEBA HERITAGE MUSEUM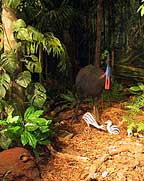 CASSOWARY DISPLAY AT THE HERITAGE MUSEUM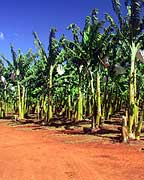 BANANA PLANTATION AT MT UNCLE DISTILLERY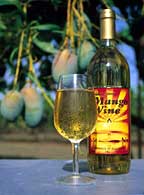 GOLDEN DROP MANGO WINE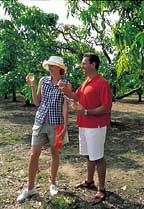 MAREEBA WINERY
MAREEBA COFFEE WORKS

MAREEBA RODEO

MAREEBA RODEO
MAKOTRACK
Mareeba Shire
Updated: 06-Feb-2007
A short drive up the Kuranda Range leads you to the rainforest gateway of Mareeba Shire. From here you can see the scenery change from the green coastal rainforest belt to drier open savanna country on the short drive to Mareeba town.
In this area where the rainforest meets the outback you will discover savanna grasslands and huge termite anthills, crisp blue skies and clear nights that are perfect for stargazing.
Mareeba is the biggest town on the Tablelands once serving as a railway and communications centre, it now boasts over 60 tourism based experiences. You'll be surprised by the amount there is to do in this region.
Mareeba is in the centre of a rich agricultural area with over forty different crops including mangoes, paw paw, coffee, macadamia nuts, sugar cane, pineapples, cashews, bananas and plenty more. This fresh produce can all be sampled at the nearby locally owned attractions. You can self drive, or Food Trail Tours can guide your appetite to the finest delicacies.
Mt Uncle Distillery
Mt Uncle Distillery is a working banana, avocado and macadamia nut farm. This award winning attraction produces and sells a large variety of 100% naturally flavoured liqueurs including: Banana Liqueur, Coffee Liqueur, Mulberry Liqueur, Mango Liqueur, Limecello and Lemoncello.
The Golden Drop
The Golden Drop Mango Winery is the site of Australia's largest mango plantation. From here you can take a guided tour around the property, inspect the wine making process then sample some of the refreshing tropical Mango Wines, together with Citrus Cellos, Mango Port, and Golden Mango liqueur style wine.
De Bruey's Winery
De Bruey's Winery offers free tropical fruit wine tastings and cellar door sales. These tropical fruit wines have the characteristics of traditional wines with the delicious flavours of exotic tropical fruits. Choose from Lychee, Mango, Mulberry or Bush Cherry (a tropical native fruit) to sample from. Other wines available include Jaboticaba and Star Apple.
The Coffee Works
The Coffee Works is 100% Australian family owned and operated. The range and quality of coffees they select and offer is one of the most extensive of any coffee roaster and blender in Australia. You can tour the blending factory then relax in the coffee shopando enjoy local specialties such as Cairns Highlands Pearls Coffee, macadamia flavoured coffee, coffee liqueur and chocolate-coated macadamia nuts.
Mareeba Rodeo
In July Mareeba takes on a cowboy feel as riders from all over Australia compete at the famous annual Mareba Rodeo. This is where rough riders do battle against the region's most fearsome bulls and belligerent bucking broncos.
MakoTrack
An international standard go-kart racing facility is just a few kilometers west of town along the Dimbulah Road. The Mako Go Kart Track was built by a local eccentric, a multi-millionaire, to a "spare no expenses" standard and offers a helipad, cafeteria, mini-golf course, barbeque facilities and two racetracks one 411 meters and the other 1,345 meters in length.
Edit This Page
Edit Page Content
Post Comment