Home >
Termite Fruit Veg & Takeaway
Click on Map Icons to View More Info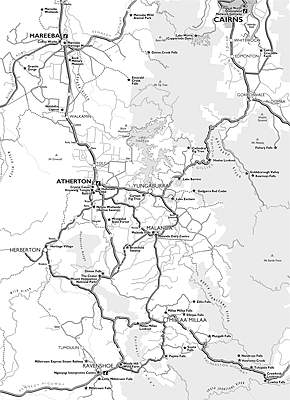 Top 10 Articles
4WD Safaris
Atherton Tablelands
Atherton Township
Australian Coffee Centre
Be Cass-o-wary!
Billy Tea Bush Safari
Birdworld Kuranda
Chillagoe Town & Caves
Crater Lakes
Curtain Fig Tree
Tablelands Region Guide
Click Images to view gallery for this subject
Termite Fruit Veg & Takeaway
Updated: 09-Nov-2011
TThe Termite Fruit Veg and Takeaway is located 40 minutes drive from Cairns on the Kennedy highway, and 10 minutes from Mareeba. The premises are built in a style reminiscent of the tobacco barns that was the local area's primary industry until the mid-eighties. With the demise of the tobacco industry, mangoes became the region's main crop, soon followed by citrus fruits, avocados, vegetables and coffee. Originally called Pavey's Barn the business was established to sell the local fruit and vegetables that are produced in the perfect growing conditions of the Mareeba area. In 1988 Percy Pavey sold the business to present owners Brian and Janice Herbohn, where the transformation began from a simple fruit and veg barn to what it is today. Located on the popular tourist circuit from Cairns to the Atherton tablelands the "Termite" has always been a popular stop off for locals and tourists. With up to date information for tourists on Tableland attractions, plus a local knowledge of places to visit, such as Davies Creek National Park, Emerald Creek Falls, and the nearby Ice Creamery. The Termite is a great place to pick up some fresh fruit and vegies, after more than 20 years in the business, Brian has been able to source the best local fruit and vegetables that the area has to offer. Brian's speciality is the range of chilli sauces that are produced right on the premises. Having a love for chillies the idea of combining chilli with mango became the first product in the termite chilli sauce range, and still remains the most popular. With the success of the Mango & Chilli Sauce, Brian began trying different types of fruits, combining them with different types of chillies to offer the chilli lover a great range of delicious sauces to complement many cuisines. It didn't take long before local seafood outlets and meat specialists began to stock the Termite Chilli Sauce range, requests from happy customers looking for more sauce have led us to make the product available via our web page. With so many delicious types of fruits available Brian turned his hand to jam making, the termite now have a great range including mango jam, tropical jam a delicious blend of rockmelon, passionfruit, papaya and pineapple. Combinations of pineapple and passionfruit, pineapple and ginger, seasonal fruit jams including mulberry and rosella. At the termite you'll also find a range of locally sourced honey collected from the many varieties of flowering trees, including macadamia and avocado, free tastings of all varieties are available, customers can choose from a range of small, medium or large bottles to 3kg tubs, or bring your own container to suit your requirements, prices are very competitive. While at the termite sample our range of hot freshly cooked salted or garlic peanuts, our hot nut display also offers macadamias, cashews and smoked almonds. We also specialize in a range of dried fruits, our locally grown mangoes, pineapples and bananas are dried when the fruit is at its peak. Jak fruit, persimmons and dragon fruit are also available when in season. Boutique coffee plantations have also become part of the diversifications of the Mareeba district, stop off for a coffee, enjoy a cappuccino, short black, latte, whatever style you prefer the termite offer a relaxing setting to sit and sample the unique flavours of the coffee grown in this area. The termite also offers some great food either eat in or take away, we have all the usual fare like great burgers, local caught fish, sandwiches made from ham smoked at our local butchers. Smoothie's made from mango, strawberries and bananas. For something different try crocodile and chips, or a kangaroo fillet burger, for a snack on the wild side a croc and roo kebab gives you a taste of these unusual local delicacies.
Edit This Page
Edit Page Content
Post Comment