Click on Map Icons to View More Info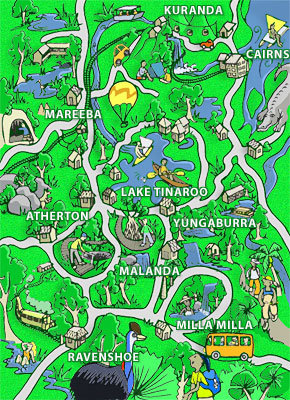 Top 10 Articles
4WD Safaris
Atherton Tablelands
Atherton Township
Australian Coffee Centre
Be Cass-o-wary!
Billy Tea Bush Safari
Birdworld Kuranda
Chillagoe Town & Caves
Crater Lakes
Curtain Fig Tree
Tablelands Region Guide
Click Images to view gallery for this subject

KURANDA IS A 20 MINUTE DRIVE UP THE RANGE FROM CAIRNS

THE BARRON RIVER FALLS

ENDANGERED CASSOWARY AT BIRDWORLD
KURANDA SCENIC RAIL

SKYRAIL CABLE CAR OVER THE BARRON RIVER IN KURANDA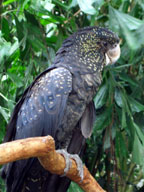 BIRDWORLD

KURANDA HERITAGE MARKETS

BIRDWORLD KURANDA

HAND FEEDING AT BIRDWORLD KURANDA

RAINFOREST WALKS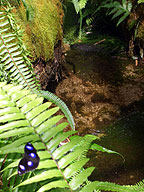 BUTTERFLY SANCTUARY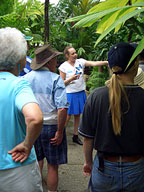 GUIDED TOUR

FEED A KANGAROO AT KOALA GARDENS

CROCODILES AT KOALA GARDENS

JUMPING JACK AT RAINFORESTATION

EXOTIC BIRDS AT BIRDWORLD
Kuranda Village
Updated: 13-Dec-2011
Kuranda also known as "The Village in the Rainforest", is located 300m above sea level and enjoys a climate cooler and less humid than Cairns. The journey to Kuranda is an easy half hour drive from the centre of Cairns. A popular option to get to Kuranda is to take a tour that includes the famous Kuranda Scenic Railway and Skyrail Cableway.
The Kuranda Scenic Railway winds its way from Cairns to Kuranda. Constructed between 1882 and 1891, it is considered an engineering feat of tremendous magnitude. This amazing train journey will take you past the Baron Gorge Observation Deck, to the giant bridge over Stoney Creek and through 15 hand-made tunnels and 37 bridges that were hand carved from the cliffs.
Enjoy spectacular views from the open-air railway train windows as it comes to a halt at Stoney Creek falls for some amazing scenic photo opportunities.
The award winning Skyrail Rainforest Cableway will take you on a 7.5km journey over the rainforest canopy and deep into the forest, with two rainforest mid-stations providing the opportunity to explore this unique environment from the forest floor. Gliding just meters above the rainforest canopy in a 6-person gondola cabin the Skyrail journey will give you an intimate rainforest experience.
At Kuranda, you'll discover a variety of unique attractions, including the bustling village markets, the internationally renowned Rainforestation, Bird World, and the colourful Australian Butterfly Sanctuary.
It is an exciting and vibrant community offering a unique blend of indigenous culture, pioneering heritage, alternative lifestyles and the many artistic talents of its inhabitants. Many popular Aboriginal artists live locally and sell their art in the village craft shops and galleries.
Kuranda's famous Original Markets operate 7 days a week from 9:30 am through until 3.00 pm. The Heritage Markets also operate daily.
Rainforest and Riverside walks are easily accessible from the Village centre and the Barron falls which are an awesome sight to see (especially during the wet season) are just a short drive from the village.
Birdworld:
A must see in Kuranda Birdworld has the largest collection of free-flying birds in Australia. See the spectacular birds at home in their huge flight aviary, landscaped with lakes, ponds and waterfalls. There are more than 75 species of native birds including Regent Bowerbirds, parrots and the endangered Cassowary. Hand feeding opportunities are available and remember to bring your camera!
Butterfly Sanctuary:
At the Australian Butterfly Sanctuary more than 1500 colourful tropical butterflies - all residents of the local area - flutter around their enclosure in complete safety.
This is Australias's largest live butterfly display. In a lushly landscaped enclosure with running stream and native tropical plants, literally hundreds of brilliantly coloured butterflies will surround you, including the flashing, dancing electric-blue Ulysses, regarded by many as the unofficial emblem of Tropical North Queensland. Wear something bright (either red or white) and entice the butterflies to land on you!
Edit This Page
Edit Page Content
Post Comment