Home >
Outback Country Rock & Blues
Click on Map Icons to View More Info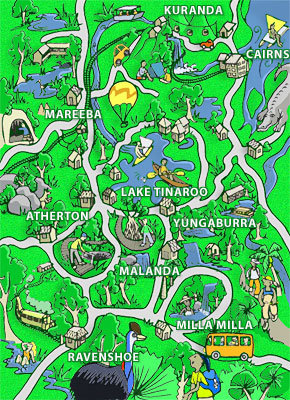 Top 10 Articles
4WD Safaris
Atherton Tablelands
Atherton Township
Australian Coffee Centre
Be Cass-o-wary!
Billy Tea Bush Safari
Birdworld Kuranda
Chillagoe Town & Caves
Crater Lakes
Curtain Fig Tree
Tablelands Region Guide
Click Images to view gallery for this subject
Outback Country Rock & Blues
Updated: 21-Mar-2008
Outback Country Rock & Blues 2008 - APRIL 18th - 20th
3 Days, 23 artists, 2 stages, AND OVER 20 HOURS OF LIVE MUSIC !!

Announcing feature artist, Felicity Urquhart:
Golden Guitar winner , Female Vocalist of the Year – ACMLA People's Choice Awards
Female Vocalist of the Year – Tamworth Independent Artists' Recognition Awards (TIARAs)
Female Vocalist of the Year – Australian Independent Country Music Awards (Mildura)
Felicity has won two MO Awards and three ACE awards.
The Flood are Kevin Bennett (vocals and guitar), James Gillard (bass, Guitar, Vocals), Tim Wedde (vocals, keyboards and accordian) and Scott Hills (drums).
Here's a band who know their rock'n'roll and country history backwards and have managed to assimilate all these influences into something fresh and distinctive. The Flood are from Sydney, Australia but listen to their music alongside that of The Jayhawks, Wilco, Calexico, Son Volt, Sparklehorse, Whiskeytown, The Scud Mountain Boys - the leading lights in the so-called 'Americana' sound, and you'll find a similar international sound and appeal.
Other Artists include Luke O'Shea and Medicine Wheel, Steve Eales, Mark Nuske, Corey Livey (Australian Idol), Nellie Donovan and The Rain, Shane Flew and Keri McInerney and The River band.
Program
Friday Program 6pm till 12.45pm (Followed by a Jam Session around the Campfire after the show)
Saturday Program 12pm till 4pm - Songwriters Circle - Acoustic sets held at Undara Central featuring major and local original aritsts. 6pm till 12.45 - Main show featuring all lead acts.
Sunday "Recover" Program 11am - 2pm - Final All-Star Show
Campground sites from $8 per person pn. Wilderness Lodge (3 bed dorms) available from $25 per person pn. Railway Carriage from $75 per person pn.
The Undara Outback Country Rock and Blues Festival, was an absolutely amazing experience. It was fantastic to share such a special time with so many talented musicians, who are also some wonderful friends. The Undara Experience with our performers lava tube tour was an additional breath taking experience….almost spiritual! Thank you to all the staff and fans who made all us performers, a part of the Undara family. Undara a special place….a special experience!
Keri McInerney

Edit This Page
Edit Page Content
Post Comment