Home >
Wilderness Eco Safari
Click on Map Icons to View More Info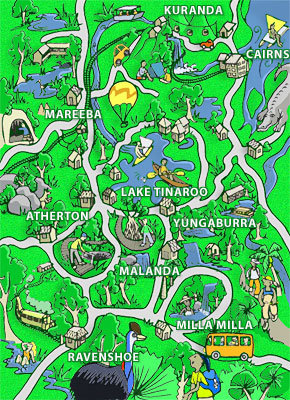 Top 10 Articles
4WD Safaris
Atherton Tablelands
Atherton Township
Australian Coffee Centre
Be Cass-o-wary!
Billy Tea Bush Safari
Birdworld Kuranda
Chillagoe Town & Caves
Crater Lakes
Curtain Fig Tree
Tablelands Region Guide
Click Images to view gallery for this subject
Wilderness Eco Safari
Travellers Tale!
Submitted By: Jo Delvin - Australia
Updated: 03-Jul-2009
Experiencing our tropical rainforests is one of the must dos when visiting Cairns. If you like personal small grouped tours, then the Wilderness Eco Safaris is a perfect option.
The beauty about Wilderness Eco Safaris is that Steve is the only operator that has access to highly restricted areas on the Atherton Tablelands, which means, apart from your fellow tour buddies, there are no crowds or other vehicles. Cairns is surrounded by World Heritage-Listed Tropical Rainforests, so as Steve will show you, Cape Tribulation is not the only destination to experience the splendour of the rainforests.
The Safari consists of Steve driving a custom-built Toyota Landcruiser, to accommodate a maximum of 8 passengers per tour. Once all passengers were picked up from their accommodation, and we were on the road, we each introduced ourselves, which created a friendly start.
Travelling along the Gillies Highway was a great introduction to what lied ahead of us. Steve told us true stories of the hard workmanship and history of this windy road that ascends to the top of the mountains that surround Cairns. On the top of the Gillies range we stopped at Lake Barrine, an extinct volcano crater, for morning tea, which consisted of yummy muffins and of course, Billy Tea. Here we had time to stretch our legs and visit the famous twin Karri Pine trees that stand tall over Lake Barrine, and watch the native bush turkeys scratching about.
Once we are back in the vehicle, we head off road through Danbulla National Park, where we pass more crater lakes amongst towering trees, including a stop and photo opportunity at the Giant Cathedral Strangler Fig with roots showering down a mesmerising 50 metres! Steve who is also an amateur photographer, told us to turn the flash off our cameras, to truly grasp the colours and textures of this natural structure. Thanks for the tip Steve, the pictures come up beautifully! Viewing these ancient giants, leaves you looking in absolute awe and actually make you feel quite insignificant in comparison!
We stopped for lunch at this lovely under covered picnic area, called the "Two Chimneys resting Place", ironically named from the two tall chimneys that still remain from a house fire many years ago. As Steve was laying out a delicious lunch, of cold meats including marinated chicken, fresh salads, tropical fruits, and plenty of soft drink, a brief scream confirmed the encounter of three sleepy pythons, which were also using the shelter to warm in the sun. This offered us great photo opportunities of these harmless reptiles nice and close.
With our bellies full, and our spirits full of anticipation, we climb aboard, to continue our journey. We veer onto a narrow track, to start our ascent up the Lambs Range which rises above sea level over 4000 m. Here we enter the darkness and dampness of thick rainforests, which some of the oldest tree and plant types in the world, are still living and growing in this spectacular environment. One of the many plants we saw was the snowflake ginger that only grows in certain altitudes and small pockets of this Wet Tropics region. These gingers have the largest flowers out of all ginger species with the leaves having a beautiful soft, velvety feel. This area is so remote that it is no wonder that it is totally restricted for scientific research and wildlife studies.
Reaching the top of the range we need to all equalise our ears and open our eyes to witness the panoramic view over the green Atherton Tablelands, the aridness of the Mareeba area, and then around to the coral sea. It truly is a spectacular view, and quite an achievement to realise we are at the highest peak of the Gillies Range.
Starting our decent, we start to see the surrounding vegetation change into Australian Bush, with the roads becoming a lot dryer and bumpier, and the petite wildflowers giving the brown surroun
Edit This Page
Edit Page Content
Post Comment