Click on Map Icons to View More Info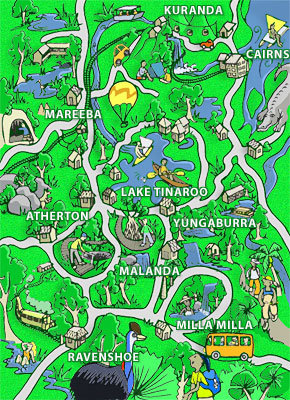 Top 10 Articles
4WD Safaris
Atherton Tablelands
Atherton Township
Australian Coffee Centre
Be Cass-o-wary!
Billy Tea Bush Safari
Birdworld Kuranda
Chillagoe Town & Caves
Crater Lakes
Curtain Fig Tree
Tablelands Region Guide
Click Images to view gallery for this subject

RELAXED TROPICAL LIFESTYLE

LIGHTWEIGHT CLOTHING
DON'T FORGET SUNSCREEN
PACK YOUR MOZZIE REPELLANT
SANDALS ARE MOST COMMON FOOT ATTIRE
What to Pack?
Updated: 03-Jul-2008
Keep in mind when packing that it may cost you at check in if you're too heavy. And, leave some space just in case you find some great little purchases on your travels.
Pack your clothes flat with fewer folds. Lay pants and dresses flat on the bottom, add clothes and shoes (in bags ), then fold the rest of the garments over (like a pita bread). If you don't want crushes for a special dress use tissue paper between. Then compress.
Year round we wear t.shirts and shorts during the day. In the evenings in July and August you could wear a sweater or cardigan and trousers. But, during the day even at these times it is still possible to swim in the ocean with water temperature at around 24 degrees. In the summer months wear as little as possible.
Leave the strappy heels behind. Ok, you can bring just one pair! But, in North Queensland it is not as necessary to wear heels or suits unless you're coming for a special occasion. We love to dress up when the time is right but it is very relaxed up here. For your tropical holiday pack sandals, fully enclosed shoes for hiking, river walker sandles that can get wet if you're white water rafting and flip flops/thongs for the beach. Comfy shoes like ballet flats with enforced soles are also handy.
There are new little packages of toiletries for travelling that are very handy and negate the need to carry all of the bottles. Remember your SPF
30, mosituriser, paw paw lotion and mozzie spray just in case.
I don't think you need a blow-dryer as most hotels have them in the room. It's like summer year round up here. It's humid, and you're going to frizz within fifteen minutes anyway. A ponytail and headband and a hat work well with heat and humidity.
See you in NQ!
Edit This Page
Edit Page Content
Post Comment