Click on Map Icons to View More Info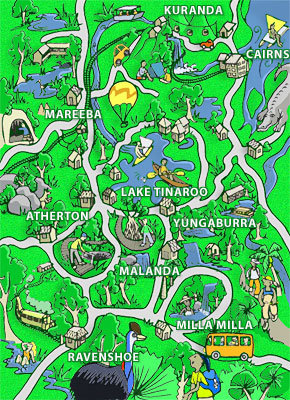 Top 10 Articles
4WD Safaris
Atherton Tablelands
Atherton Township
Australian Coffee Centre
Be Cass-o-wary!
Billy Tea Bush Safari
Birdworld Kuranda
Chillagoe Town & Caves
Crater Lakes
Curtain Fig Tree
Tablelands Region Guide
Click Images to view gallery for this subject
Be Cass-o-wary!
Updated: 28-Jun-2013
Be...CASS-o-WARY!
Cassowaries are an endangered species found throughout the rainforests, and nearby woodlands and swamps of North Queensland. These large flightless birds play an important role in the dispersal of rainforest plant seeds.

Cassowary populations face a variety of threats. As habitat disappears, human contact with cassowaries is increasing. Cassowary behaviour is unpredictable. Cassowaries are known to kick with their large clawed feet. This can be dangerous for people and pets.
Cassowaries are potentially dangerous. Avoid unnecessary risks and help protect cassowaries by following these guidelines in cassowary territory.
Never approach cassowaries

Never approach chicks - male cassowaries will defend them.

Never feed cassowaries - it is illegal, dangerous and has caused cassowary deaths.

Always discard food scraps in closed bins.

Always slow down when driving in cassowary territory.

Never stop your vehicle on the road to look at cassowaries.

Keep dogs behind fences or on a leash.

Report cassowary sightings and incidents to your local Queensland Parks and Wildlife Service Office.
Edit This Page
Edit Page Content
Post Comment