Home >
Pauls Parachuting Tandem Skydive
Click on Map Icons to View More Info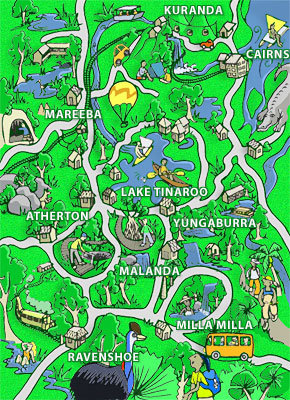 Top 10 Articles
4WD Safaris
Atherton Tablelands
Atherton Township
Australian Coffee Centre
Be Cass-o-wary!
Billy Tea Bush Safari
Birdworld Kuranda
Chillagoe Town & Caves
Crater Lakes
Curtain Fig Tree
Tablelands Region Guide
Click Images to view gallery for this subject

Practising how to fly

Off to the airport

At the airport

Feeling brave

Checking out the view

Time to go!

ARRGGHHH!!

MORE ARGGGHHH!!

High above the clouds

Check out the camera!

Grinning for the camera

Phew! Parachute opens

Cruising slowing down to earth

What a view!

Approaching solid ground

Man! That was awesome!

Thanks Bully!

I did it!
Pauls Parachuting Tandem Skydive
Travellers Tale!
Submitted By: Melanie - Melbourne Australia
Updated: 03-Jul-2009
Having always wanted to experience the thrill of jumping out of a plane and skydiving to earth, I never had the nerve to do it alone. However, my crazy friend, Amy, coerced me into it and before I knew it, I had agreed.
Let me tell you, if you are in for the ultimate adrenaline rush, then a skydive with Paul's Parachuting is the go for you! Not for the faint-hearted is this. This is not just some big bungy jump - you are defying death here! And there is NOTHING that even comes close to what plummeting towards the earth at 200 kph feels like. It is certainly the ride of a lifetime.
At 2:00pm on the day, a bright cheery "Paul's Parachuting" van pulled up outside our hotel. We climbed aboard with several other excited people and made our way to the Paul's Parachuting office on Sheridan St. Once there, we filled out all the necessary paperwork and got to meet everyone. With our group were a father and his 14-year-old daughter from South America. I thought this was quite cool - a father and his daughter jumping together.
Then I heard someone call out "Melanie!" and turned to see a tall, handsome fellow with a big grin bounding towards me holding a handy-cam. He introduced himself as Karl and told me he was my tandem instructor. He was going to film my every move during this momentous afternoon, from the classroom where we are taught how to jump, to landing on solid ground at the end. Amy was paired up with an instructor called "Bully", whose name made her a tad bit nervous!
In the classroom at the back, the instructors cracked jokes about how it was the first tandem jump for one, and how another had forgotten to take his medication so who knows what might happen, etc etc. We were dressed up in skydive gear and harnesses. Then we were taught how to jump, the position for sailing through the air and how to land safely. All pretty simple really. What I found hard to believe were that these guys were going to film us on their handy-cams the whole time, whilst also helping us to jump out of a plane, sky-dive, open the parachute, steer it in the right direction, adjust our harnesses AND land on the ground at the same time! Incredible! Some major coordination must be required!
So we were then piled into the van for a 10-minute ride to the airport. On the way, more jokes ensued. At the hangar, a small plane with no door awaited us. I wanted to know where the door had gone, no one seemed to know! All the instructor boys seemed to think that was very funny.
There were five of us novices jumping all together, each strapped to the chest of their tandem instructor. The ten of us were packed into the plane like sardines, sitting in two rows between each other's legs. As the door-less little plane took off and climbed to 10,000 ft, I felt my heart rate also rapidly accelerate. The father and daughter were jumping from this height, and gees, did it look a long way up! As huge rivers starting diminishing in size to little threads and vast cane farms starting to resemble postage stamps, Amy and I looked at each other in pure dread - what were we doing?!
The father was the first to jump, followed by his teenage daughter who was cool as a cucumber and putting us to shame with her calmness. Sheer terror is the only way I could describe my reaction to watching someone else jump out of the plane first. The father was gently nudged up to the edge of the door by his instructor, where he was told to cross his arms. As the pair leaned forward out of the plane, they were instantly sucked out of the plane by a huge vacuum as if into a vortex. This was accompanied by great big noisy "thooomp!" as the wind swallowed them up. The little plane shook from the force of the pair departing. Undaunted, his 14-year-old daughter followed him straight afterwards. Amy and I in the meantime started freaking out
Edit This Page
Edit Page Content
Post Comment