Home >
Springmount Station Horse Ride
Click on Map Icons to View More Info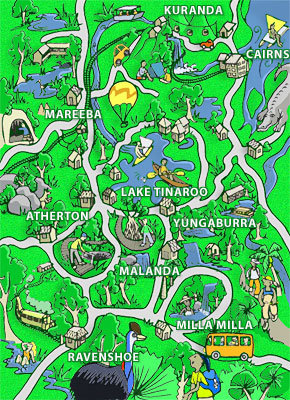 Top 10 Articles
4WD Safaris
Atherton Tablelands
Atherton Township
Australian Coffee Centre
Be Cass-o-wary!
Billy Tea Bush Safari
Birdworld Kuranda
Chillagoe Town & Caves
Crater Lakes
Curtain Fig Tree
Tablelands Region Guide
Click Images to view gallery for this subject

SPRINGMOUNT HORSERIDING DAY TRIP

MORNING TEA BEFORE THE RIDE

THE STATION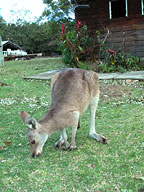 LOCAL KANGAROO

PREPARING TO GO

MIRIAM & PAUL




FEEDING THE GOAT KIDS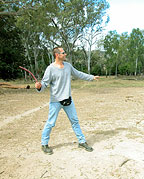 PAUL THROWING THE BOOMERANG

BBQ LUNCH AT THE HOMESTEAD

THE FRIENDLY KANGAROO
Springmount Station Horse Ride
Travellers Tale!
Submitted By: Miriam Taylor - UK
Updated: 03-Jul-2009
We departed from Cairns early so that we could enjoy the beautiful scenery on the way to Springmount station in Mareeba. Once out of the city, the atmosphere of Australia's bush comes alive. Termite mounds, wallabies springing across the road and the morning call of birds was relaxing as we weaved our way to the station.
On arrival, homemade scones were waiting, ready to eat with fresh cream and strawberry jam as well as freshly brewed tea and coffee. We were told we had to keep our energy up for the next few hours of adventure!
The station was lovely - a true Aussie outback-scenic spot - full of gum trees, some chickens wandering around and their friendly kangaroo.
Once heads had been counted, and all were ready to go, we strolled to the stables and found our horses waiting outside, already tacked up, and looking bright and breezy! After some commotion about who was to be paired with which horse, about twenty people were in the saddles. As there were so many people, we were split into a number of smaller groups so that we could benefit from the fewer people.
Our guide, Helga from Germany, led us on the way. Paul's horse looked as if it might need a carrot in front of it's nose all the way to keep it moving, however, Ghost and I were already a team - she was racing ahead, ready for the hack! Paul tried to push Amber onwards, however, he was still rather reluctant to move. After a few awkward moment of deciding who was boss, Paul finally was in control and Amber was ready too.
We rode through the bush land, past more termite mounds, this time, much larger. We passed by a river. The morning was still crisp and bright and the sun was shining despite rain the previous night. Once we had crossed the river on horseback, we lunged out into more open land where we could trot. The group trotted for a few hundred metres and then proceeded back into a gentle walk. The next time, Helga prepared us for a canter. I knew that at the back of the line, I could only go as fast as the person in front of me, so decided to hold Ghost back until the last minute and then kick on, in hope that she would race towards the others! Sure enough, she did just that. It's was very exhilarating to feel so free.
After a break at "Coo-ee" mountain and another hours worth of riding, we came back to the homestead for a welcome lunch. The barbeque was delicious but it was so quickly over. The farm of course has to be maintained so as guests, we were allowed the priviledge of feeding the goat kids. In true outback-aussie style, we were taught how to throw a boomerang and nearly knocked a few of us out in the process. One Japanese boy really was very close to being knocked on the head.
We were whisked off for more adventures riding. This time we were allowed more leeway and could choose where to go and how fast! We spent an hour watch the world go by, and then took a break. Paul's horse was glad to be rid of him for ten minutes I think! After one more hours riding, it was time to return to the farm and relax. Fresh tropical fruit and more tea and coffee were flowing. The friendly kangaroo returned to say hello and by then it was 17:00.
Paul and I then said our goodbyes and started the return journey to Cairns.
Edit This Page
Edit Page Content
Post Comment